Irn Bru firm AG Barr in merger talks with Tango maker Britvic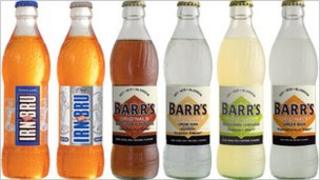 The company behind soft drink Irn Bru has confirmed that it is in talks about a possible £1.4bn merger with Tango maker Britvic.
AG Barr, which employs more than 900 people, also makes Tizer and Rubicon.
The Cumbernauld-based company said discussions were at an early stage after it approached its Essex-based rival Britvic about a potential tie-up.
The company claimed that the deal could create one of Europe's leading soft drinks companies.
Britvic's other products include Robinsons, J2O and Fruit Shoot.
It also sells PepsiCo brands under an exclusive licence.
In a joint statement, the companies said the combination would have "compelling industrial logic".
New company
They said it would "represent an opportunity for both companies to enhance their industry position, and achieve significant synergies and shareholder value".
It has already been agreed that Britvic shareholders would own 63% of any new company.
In addition, the board of directors would be drawn equally from the boards of both companies.
AG Barr chief executive Roger White would take on the CEO role in the new group, while Britvic chief financial officer John Gibney would become the new CFO.
Gerald Corbett, chairman of Britvic, would chair the board of the combined group, and AG Barr chairman Ronnie Hanna would become its deputy chairman.
Secret recipe
The company said it was too early to give any details about the impact on staff or the location of any future headquarters.
Shares in both companies increased following the announcement. Britvic is worth £890m after a nearly 13% rise, while AG Barr was up 8%, valuing it at £500m.
AG Barr has produced Irn Bru from a secret recipe for more than 130 years.
Chairmanship of the company passed outside the family for the first time in 2009 when Robin Barr ended his 31-year tenure as chairman.
He remains on the company's board as a non-executive director and is one of just three people to know the formula of 32 ingredients used in the drink.