Fishing leaders 'disappointed' after mackerel talks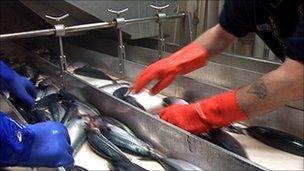 Scottish fishing leaders have said they are disappointed that fresh discussions led to no agreement to end the long-running dispute over mackerel quotas.
The EU, Norway, Iceland and the Faroes were all represented at the talks.
The island nations have been criticised for declaring huge catches of the valuable fish in recent years, leading to fears for its sustainability.
The Scottish Pelagic Fishermens' Association (SPFA) said Europe must now implement sanctions.
EU Fisheries Commissioner, Maria Damanaki, was meeting with fisheries ministers from Norway, Iceland and the Faroe Islands.
SPFA chief executive, Ian Gatt, said: "We are disappointed that there was no breakthrough.
"If it is not possible to reach agreement at this high level, then one has to question whether there is any hope at all for the next round of talks scheduled for October.
"This makes it even more important than ever that the European Parliament ratifies sanction measures against Iceland and the Faroes this month, and that the EU wastes no time in immediately implementing them."
Scottish Fisheries Secretary Richard Lochhead said the outcome of the latest talks was "disappointing but sadly predictable".
He added: "Recent years show that Iceland and the Faroes have a track-record in demonstrating a lack of willingness to compromise and reach a fair deal for mackerel.
"By initiating these talks, Commissioner Damanaki has demonstrated her personal resolve to finding a solution that will see a sensible deal in place to safeguard the mackerel stock. However, once again diplomacy has failed.
"It's unacceptable for any state to compromise the sustainability of a shared fishery by setting hugely inflated quotas. And if we continue to see self-interest and stubbornness as the hallmark of the Iceland and Faroese stances then we need the EU to be equipped to take meaningful action."
Mackerel is the most valuable stock for the Scottish fleet.
Landings of the fish were worth £164m in 2011 - about a third of the Scottish total.
Related Internet Links
The BBC is not responsible for the content of external sites.