Arnold Clark buys car dealership John R Weir Group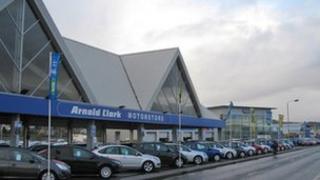 Arnold Clark Automobiles has taken on its first Mercedes-Benz dealerships with the purchase of John R Weir Group.
The sale includes Weir's Mercedes-Benz car dealerships in Grangemouth, Perth, Dundee, Aberdeen and Inverness.
Arnold Clark will also take on the group's Smart dealerships in Aberdeen, Inverness and Perth and Kia and Chrysler Jeep dealerships in Perth.
The sale was completed for an undisclosed sum.
Arnold Clark said it planned to continue to operate the newly-acquired dealerships under the John R Weir name.
All 321 current John R Weir staff will continue to be employed by the group following the transaction.
Managing director John Weir said: "The board of John R Weir Group reviewed a range of options for the group going forward and determined that the sale of the company was best for the business, its customers and its staff.
"I am personally delighted that we have been able to attract a buyer of the calibre and size of Arnold Clark, who I am confident will grow the business further as it enters this new chapter in its development."
The acquisition will add to Arnold Clark's 145 existing car dealerships in the UK. The company lays claim to being Europe's largest independently owned, family-run car business.