Remploy staff launch five-day strike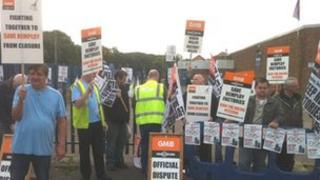 Disabled workers at Remploy sites in Glasgow and Chesterfield in Derbyshire have launched a five-day strike.
It follows a series of UK-wide strikes over the closure of many of Remploy's 54 UK factories.
Union officials claim potential buyers of remaining sites may make redundancies based on an individual's disability.
But Remploy said strike action would do nothing to secure the future jobs of employees.
The industrial action is being taken by members of the GMB and Unite unions.
A total of 24 Remploy factories closed last month under UK government plans to switch spending to help individual workers find jobs in mainstream sectors.
At least three other sites are expected to close later this year.
Nine other factories, including Chesterfield and Springburn, are expected to be sold off, while the future of the remaining sites has yet to be determined.
Potential buyers
GMB national secretary Phil Davies said: "Members at Remploy Chesterfield and Springburn are concerned that no information about three potential buyers has been given to them.
"The DWP (Department for Work and Pensions) has removed the obligation for a new employer to provide a pension. We understand that all three potential buyers may want to make redundancies based on the individual disability."
In a statement, Remploy said it had received business plans for those factories which it believed could "form the basis of a sustainable and viable business outside government ownership".
The company said formal bids would be assessed against a range of criteria, including the continued employment of disabled people by any potential new owner.
It continued: "The company hopes to be in a position next month to announce a decision on any bids it has received.
"Until then the process continues and strike action will do nothing to secure the future jobs of Remploy employees.
"We understand that this is a difficult time for employees but it is important to understand that the commercial process has been put in place to secure as many jobs for employees as possible.
"Strike action will not help us do that, nor will it help employees who will not be paid for the days when they take part in strike action," it added.