Major offshore Moray wind project plans submitted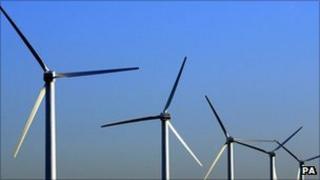 Plans to build the world's largest offshore wind project in the Outer Moray Firth have been submitted to Marine Scotland.
Moray Offshore Renewables Ltd have applied to construct up to 339 turbines over three offshore wind farms - 22km (13.5 miles) from the Caithness coast.
The firms said the £4.5bn project could supply up to one million households.
It is the first application for consent in the latest of the Crown Estate's offshore leasing rounds.
Moray Offshore Renewables is a joint venture between European firms EDP Renewables (EDPR UK) and Repsol Nuevas Energias UK.
The developers want to build between 189 and 339 turbines, with a maximum blade tip height of 204m, over a 295 square kilometre area. The development would be capable of producing up to 1,500MW of power.
Over the past 10 years the Crown Estate has held five offshore wind leasing rounds, the most recent being Round Three. The Crown Estate is investing £100m in Round Three.
Further submissions from developers are expected to continue between now and 2020.
The Crown Estate said it was "the most significant milestone yet" in its Round Three programme.
EDPR UK managing director Dan Finch said: "By working in deeper water, more than 12 miles from shore, we can take advantage of the excellent wind resource in the outer Moray Firth, and make a significant contribution to cutting greenhouse gas production and reducing the need to burn fossil fuels."