Rise in new private sector house starts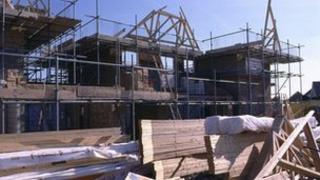 The number of private sector house starts has risen for the first time in Scotland in five years, according to official figures.
A total of 10,732 new homes were started in the year to the end of March - a 23% increase on the previous year.
It follows four years of recorded annual decreases.
However, the number of new house completions fell by 3% last year to 15,900, while new housing supply also fell by 2% to 16,882 units.
Scotland's chief statistician said the falls were driven by a decrease in private completions.
There was also a continued increase in the number of council houses across Scotland, with 2,216 started in the past two financial years.
'Challenging times'
Housing Minister Keith Brown said: "I am encouraged with the increase in the number of private sector houses started in the last year, although these remain very challenging times for the housebuilding industry.
"It is important to acknowledge that high deposit requirements and reduced mortgage availability are continuing to prove a barrier to recovery in the housing market.
"The Scottish government is doing all it can to support the industry and boost supply.
"We plan to deliver at least 30,000 affordable homes during the lifetime of the parliament, backed by investment of at least £730m in the next three years."
Industry body Homes for Scotland cautiously welcomed the increase in private sector house starts.
'Very weak picture'
Chief executive Philip Hogg said: "If these figures are correct then, of course, this is encouraging news.
"However, this information jars with the feedback we are receiving from our member companies as well as other industry statistics which continue to indicate a very weak picture.
"Indeed, completions remain the ultimate measure of production and these show that private sector activity is continuing to fall and remains still less than half that of pre-downturn levels. In fact, you need to go back as far as 1970 to find a lower figure."
He added: "The above, coupled with the latest statistics from the National House Building Council which highlight a 32% fall in the number of new homes registered in Scotland for the period of May - July 2012 compared with a year ago, mean that we can only give today's report the most cautious of welcomes."
The Scottish Building Federation said that overall construction of new homes in Scotland was "at its lowest ebb" since current records began 16 years ago.
Chief executive Michael Levack said: "As a critical sector of the Scottish construction industry and with the demand for new homes continuing to rise, it's genuinely frightening to see housebuilding numbers continuing to slide as they currently are.
"The housing sector urgently needs an injection of additional direct capital investment to help nurse it back to life."