Shetland tidal turbine will be 'world first'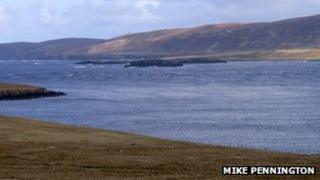 A tidal turbine, which ministers claim will be the world's first community-owned device of its kind, is to be built in Scotland.
The Nova-30 turbine will be used by the North Yell community to power an industrial estate and ice plant in Shetland.
It will be built by Scottish firms Steel Engineering and Nova Innovation.
First Minister Alex Salmond said it showed Scotland was leading the way in offshore engineering.
The Nova-30 will be fabricated for Leith-based Nova by Steel Engineering, which said the deal would help to safeguard and create jobs at its facility in Renfrew.
Announcing the contract during a visit to Steel Engineering, Mr Salmond said the turbine would be connected to the grid and provide electricity to people in one of the most remote parts of Scotland.
He added: "Scotland is leading the way in the development of marine renewables, and today's announcement that the world's first community-owned turbine is to be manufactured and deployed on these shores is a truly fantastic endorsement of our burgeoning renewables sector."
The Nova-30 (30kW) tidal turbine employs a three-bladed rotor to extract energy from the tides.
The device, which will be deployed in the Bluemull Sound between the islands of Yell and Unst, will be owned by the North Yell community.