STV confirms network deal is up and running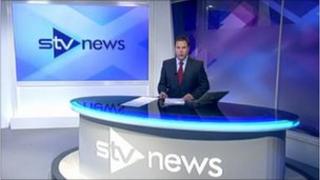 Broadcaster STV has confirmed the start of a new deal with ITV which is expected see fewer network programmes being dropped in Scotland.
The deal simplifies previously complex arrangements for running the network.
It leaves STV free to drop network programmes if it wants to show a Scottish programme instead.
But as the company now pays a flat fee for access to network programmes, it means there is less chance of a programme being dropped completely.
The news came as STV revealed a rise in its pre-tax profits.
In 2009 STV started opting out of a number of high profile ITV1 network programmes.
It dropped several drama series, including episodes of Midsomer Murders and the first series of the acclaimed period drama Downton Abbey.
The row led to a complex legal dispute which was settled amicably out of court last year.
The new arrangement leaves STV and Northern Ireland broadcaster UTV as so-called affiliates of ITV1. The deal required approval from the communications watchdog Ofcom, which has now been given.
'Significant progress'
In the first half of the year, STV made a pre-tax profit before exceptional items of £7m, compared to £6.5m during the same period in 2011.
Chairman Richard Findlay said: "I am pleased to be announcing another period of significant progress for STV.
"Securing the new Channel 3 arrangements, whereby STV is now an affiliate of the network, is a key strategic development.
"These arrangements provide stability for our business, our consumers and our advertisers and represent commercially sustainable networking arrangements between the Channel 3 licence holders."
As well as providing the Channel 3 service for most of Scotland, STV is one of four bidders for the new local TV licences for Glasgow and Edinburgh.
The company also produces programmes for other broadcasters and announced it had been commissioned to make a daytime cookery series for the BBC. It already produces the Antiques Road Trip for BBC2.
However, it was dealt a blow last year when ITV axed its long-running police drama Taggart.
Economic outlook
The company also warned that it was "cautious" about the economic outlook.
STV's national airtime revenue was down 1% in July and the broadcaster expects a fall of 6% in August, with September expected to be down 2%.
The company added: "The regional airtime market remains challenging. We expect Q3 to be down 12%, with regional revenues expected to be up 4% across the whole year."
Chief executive Rob Woodward said: "We are continuing to deliver growth in the non-broadcast areas of our business, with a 13% increase in revenues in these activities.
"The strong financial performance delivered in the period demonstrates the underlying strength of our business and we are successfully extending our reach and engaging with new consumers across an increased range of platforms.
"Today's announcement of another new BBC series commission for STV Productions demonstrates the growth momentum in that business."