Oil firms Melrose Resources and Petroceltic to merge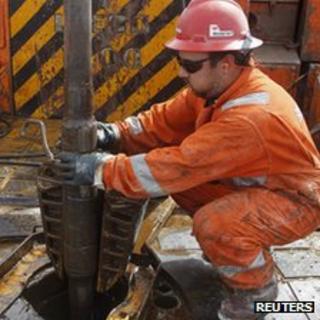 Edinburgh oil firm Melrose Resources has agreed a merger with Dublin's Petroceltic.
The deal will give the combined group a bigger presence in North Africa, the Mediterranean and Black Sea, where both already operate.
The new company will be called Petroceltic and its headquarters will be in Ireland.
Each Melrose share will receive 17.6 Petroceltic shares, a premium of 6% to its Thursday closing price of 135.5p.
Petroceltic's shareholders will hold 54% of the new company and Melrose shareholders the rest.
The deal values Melrose at £165m.
According to David Thomas, chief executive of Melrose, the merger should retain offices in both Dublin, with 30 staff, and Edinburgh, which has 40. A further 110 Melrose employees are based overseas, mostly on production sites.
While Melrose has 84m barrels or equivalent (BoE) of reserves, some already in production, the high value of Petroceltic is due to its 350m BoE, 305 of which is in a highly significant, undeveloped field in Algeria.
Melrose is seen as important to bringing its production expertise to Petroceltic, in addition to revenues from existing production.
The two companies said the enlarged group would be well capitalised and would have a £190m loan facility.
Petroceltic's Brian O'Cathain will become the company's chief executive and Robert Adair of Melrose will become non-executive chairman. Mr Adair's stake in the new company is valued at £83m.
Brian O'Cathain, chief executive of Petroceltic, said: "A combination with Melrose is a compelling opportunity to create a regionally focused company, balanced between production, development and exploration."