RES Glenchamber wind farm appeal decision criticised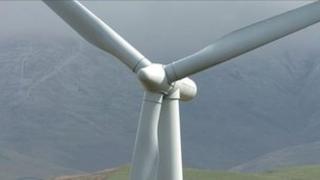 Politicians in southern Scotland have criticised the decision to allow an 11-turbine project in Wigtownshire to proceed on appeal.
RES has received the go-ahead for the Glenchamber scheme between New Luce, Kirkcowan and Glenluce.
The company said it would bring significant social and economic benefits to the area.
But Conservative MSP for Galloway and West Dumfries, Alex Fergusson, called it a "kick in the teeth" for democracy.
And Dumfries and Galloway Labour MP Russell Brown said people were "sick to death" of wind farms being "forced" upon them.
Dumfries and Galloway Council refused the proposal last year due to concerns over its "significant adverse impact" on the landscape in the area.
However, the decision was overturned by a Scottish government reporter.
Heather Donald, RES development project manager, said the company was "delighted", adding: "Glenchamber is an ideal location for a wind farm.
"Harnessing the wind is an efficient, reliable and sustainable way to supply clean energy for people living in Scotland.
"The wind farm will also provide significant economic and social benefits for the local community."
Mr Brown claimed the decision had "railroaded" through another wind farm which he said was not wanted.
"Public support for wind energy is evaporating because we are sick to death of wind farms being forced upon us," he said.
"The Scottish government seems to think it has free range to do whatever it wants in Dumfries and Galloway, regardless of what local people think.
"It is time we take a stand and show the government we won't be pushed around anymore."
Mr Fergusson said he did not believe the location was right for the development.
"I have no problem with wind farms being part of the general mix of energy generation that this country requires, but they need to be sited in the right places," he said.
"The local council officials, backed by the elected councillors, took the informed view that this particular proposal was not in the appropriate location and rejected it accordingly.
"By overturning that decision the Scottish government is overriding local knowledge, local opinion and worst of all, local democracy."
In her report, the Scottish government's reporter concluded that the scheme's contribution to the generation of renewable energy outweighed any adverse impact.
She said she was satisfied the plans "would not make this part of Dumfries and Galloway a less attractive tourism or recreational destination".
However, 26 conditions were attached to the approval.