Sir Ian Wood announces retirement from Wood Group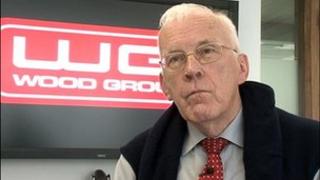 Sir Ian Wood has announced he is retiring from his role as chairman of Aberdeen-based oil services firm Wood Group.
Sir Ian has been chairman of the company since 1982 and served as its chief executive from 1967 to 2006.
He will be replaced by current chief executive Allister Langlands, while Bob Keiller will become the new chief executive officer.
The changes will come into effect in November.
Sir Ian said: "I have been lucky enough to participate in the very successful and exciting growth of the UK's oil and gas industry over the last 45 years and seen Wood Group become a successful global player.
"I will miss Wood Group, but will have the satisfaction of knowing it's in really good hands and look forward to the Group's continuing success."
Mr Langlands said: "We are confident that the Group will continue its successful growth."
Mr Keiller added: "Wood Group is a great success story, built on an exceptional leadership team, talented and committed people, and a clear strategy over the years.
"I'm looking forward to continuing to work with Allister in implementing and delivering the current strategic objectives."
In March, Wood Group announced a 60% rise in profits last year to $254.1m (£160m).
The group said revenues increased by 19.5% to $6.052 (£3.8bn).
Wood Group employs 41,000 people in 50 countries.