Milk cuts campaign launched by Scottish farmers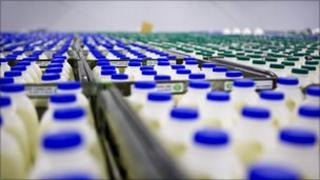 Hundreds of Scottish dairy farmers have promised to start a "co-ordinated campaign of action" against recent milk price cuts.
It comes after Robert Wiseman, Britain's biggest fresh milk company, said it would reduce the farm-gate milk price by 1.7p a litre from 1 August.
Wiseman blamed the move on a collapse in the value of cream.
After a meeting of 300 farmers at Lanark Mart, NFU Scotland said such cuts made dairy farming untenable.
It called for the cuts to be reinstated and for all parts of the supply chain to commit to creating a sustainable operating environment.
The union also said that the UK and Scottish governments should step in to properly regulate the industry if a fair dairy code of practice, which guaranteed farmers a realistic return from the marketplace, could not be agreed.
The reduction announced by Wiseman last week followed a 2p per litre cut introduced by the East Kilbride-based firm in June.
NFU Scotland's president Nigel Miller said the cuts had resulted in a "sense of crisis" among milk producers.
He added: "Recent price cuts have stripped millions of pounds out of dairy farmers' businesses and created anger, frustration and fear for the future.
"The situation has also created a level of unity within Scotland and the rest of the UK - between farmers and farming unions alike - to break the destructive power of discretionary pricing.
"We are at a crossroads, and our best option is to agree upon the goals which can actually lead to change. This may require legislation from Westminster or Holyrood, or both.
"To that end, today's meeting is the start of a co-ordinated campaign of action, which will also include a meeting with UK Agriculture Minister Jim Paice, and an anticipated 1,500 dairy farmers from across the UK."
Speaking after Wiseman announced last week's cut, the firm's milk procurement director Pete Nicholson said: "We know that this news will come as a major disappointment to Wiseman Milk Group members.
"We have done everything we can to minimise the reduction in our farm-gate milk price but we must now reflect the substantially lower returns from the markets which we serve."
Wiseman was taken over by European dairy giant Muller in January in a deal worth almost £280m.