Vion could close Hall's of Broxburn pork plant with loss of 1,700 jobs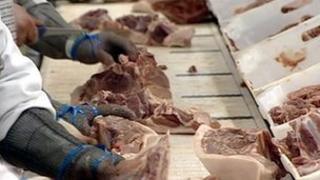 Dutch food company Vion has warned that it could be forced to close its West Lothian plant, with the loss of 1,700 jobs.
Bosses said the Hall's of Broxburn site had continued to record "unsustainable losses" in spite of "major restructuring exercises".
Staff have been told that a 90-day consultation will now take place.
Scotland's Finance Secretary John Swinney has convened a taskforce to deal with the potential redundancies.
It met for the first time on Thursday evening.
Following the meeting, Mr Swinney said: "The taskforce agreed that its key focus is maintaining continuity of business at Hall's of Broxburn and we are entirely committed to that exercise.
"We have drawn together all of the relevant government agencies, local agencies and political representatives to focus on ensuring we deliver a positive economic future for the workforce and community of Broxburn.
"The taskforce has had a positive start and will take forward a number of practical actions before re-convening on July 30."
Vion's UK chairman Peter Barr said it was an "extremely sad day" and one "we have strenuously tried to avoid for the past four years".
He said: "Every possible step has been taken to secure the future of the business, but we are currently losing £79,000 per day at the site, which is clearly unsustainable.
"There is significant over-capacity in the UK meat industry and market conditions are extremely challenging."
Vion said it had invested "heavily" in the site, brought in new management across the group and implemented restructuring measures over the past four years.
In just September last year, Vion announced it would create 250 jobs - including a modern apprenticeship scheme which attracted Scottish government grants of up to £2m.
At the time First Minister Alex Salmond hailed it as "fantastic news".
Vion Food Group purchased the Broxburn plant in August 2008 from Grampian Country Food Group, which had been in financial difficulties for several years.
It employs 1,150 permanent and 595 agency staff at the major processing facility for Scottish pork, handling 8,000 pigs each week.
Mr Barr said: "If the consultation exercise does not reveal a viable way forward for this plant, a proportion of the work from these facilities will be transferred to other Vion UK plants to strengthen their performance and help secure jobs.
"However, the market conditions are so severe that we will cease to supply the majority of products currently handled by this plant.
"We will make every endeavour to identify other Scottish producers who may be able to produce some of these products.
"If the plant closure is confirmed, we will take all practical steps to work with the relevant agencies to minimise the undoubtedly significant impact on jobs and local economies.
"Clearly, our Halls of Broxburn site is a major market for the Scottish pig farming industry and we would, therefore, hope to extend the time frame for any closure plan for the abattoir at the site in order to help minimise the potential impact on Scottish pig farmers."
John McGinty, West Lothian Council leader, said he was "shocked" to hear the scale of the potential job losses and said it was "devastating for everyone involved".
He said: "Vion is a major employer in the area and this is undoubtedly a serious blow in what is already an extremely challenging employment market."
'Crushing blow'
Fiona Hyslop, MSP for Linlithgow, said it was a "devastating blow for workers and their families in West Lothian".
Scottish Labour's Neil Findlay MSP, representing Lothian, said the news was "a crushing blow" for the workers and the West Lothian economy.
The National Farmers Union in Scotland said the loss of the Vion plant would be catastrophic for the meat processing industry north of the Border.
They said it was "the linchpin" of the industry in Scotland with no other plant in the country of a similar size.
They added that the staff and mechanics necessary to process meat on Broxburn scale was highly specialised and could not be replicated easily.
Stewart Forrest, the Union of Shop, Distributive and Allied Workers' deputy Scottish divisional officer also said it was catastrophic news.
He wanted to know why the company had waited until the eleventh hour "before engaging with its employees and their union".