Olympics set to boost Scottish economy 'by £1bn'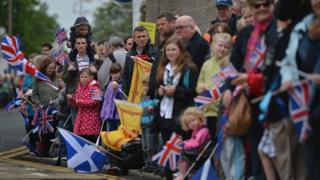 Scotland stands to gain a £1bn economic benefit from the staging of this summer's Olympic Games, according to new economic research.
The study suggested much of that is from orders for Scottish firms for construction and other services.
There should also be benefits to tourism north of the border.
The economic impact report, carried out by Oxford Economics for Games sponsor Lloyds Banking Group, covers a period of 12 years before and after the Games.
It runs from the 2005 selection of London, and follows through for five years after the Olympic and Paralympic Games close.
Olympic football
Those five legacy years are reckoned to provide 30% of the total benefit.
Scotland's projected £1bn benefit is part of a £16.5bn boost to the UK economy over those 12 years.
The study suggested that £774m would be spent in Scotland on sourcing construction, supplies and equipment.
Orders from Scottish companies have contributed to building of the main stadium and aquatics centre, while one of the bigger contracts with a Scottish company has been for the provision of outdoor gear and bags, from West Lothian company Highlander.
That main figure also includes wages. Stagecoach transport company said this week about 300 Scottish-based bus drivers would go south to provide public transport services during the Games.
With nearly 11 million extra tourist visits over the period of the study, Scottish tourism businesses are expected to benefit by £185m more than might otherwise have been spent.
Some of that will be through an estimated 260,000 visits to see Olympic football at Hampden Park, the national stadium in Glasgow. If ticket sales go to plan, that will be 2.5% of the total benefit from people attending competitive events.
Legacy tourism
Of the total extra tourism spend, £43m of it is projected to come from those travelling to Scotland to avoid London during the Games, though it is also estimated there will be an offsetting loss of normal tourism business worth about £10m as people shun Scotland in favour of London.
The only area to get a bigger lift from the displacement of people out of London congestion is expected to be south-west England, with a £70m extra spend.
A third of the extra tourism spending is expected to come from the legacy of people being encouraged to visit Scotland by seeing the Games taking place in Britain - an effect that has not been seen after all other major sporting events, but it did work for Australia after the Sydney Olympics and Germany after the FIFA World Cup in 2006.
The extra tourist spend is not expected to benefit retail as much as hotels and restaurants, which are forecast to get 18% of the extra income generated throughout Britain.
Gareth Oakley, of Bank of Scotland Commercial, part of Lloyds, said: "Delivering the Games has required an unprecedented level of capital investment over the past five years and the economic ripples of this are being felt not just in London, but across the UK, including Scotland.
"The economic impact being felt in Scotland is a real boost, and the fact that businesses in the country have seized the opportunities presented by the Games and have delivered such a big contribution to GDP must be acknowledged.
"The challenge now is for those businesses to build on what they have gained from the Games so that they can continue to grow and so that others might follow their lead in the run-up to the Commonwealth Games in Glasgow in 2014."