Muhammad Yunus accepts Glasgow Caledonian University post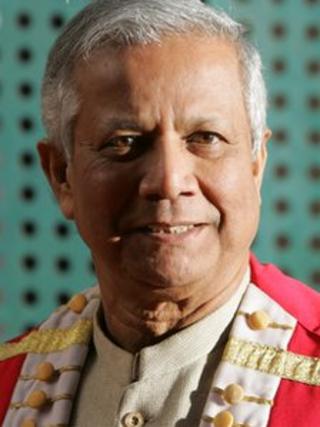 The founder of the pioneering Bangladeshi micro-lending Grameen Bank is to become the new Chancellor of Glasgow Caledonian University.
Nobel laureate Muhammad Yunus succeeds journalist, broadcaster and politician Lord Macdonald of Tradeston.
In March Prof Yunus announced details of a new charity, called the Grameen Scotland Foundation.
It aims to alleviate economic, health and social inequalities in some of Scotland's poorest communities.
Prof Yunus, 71, launched the Grameen Bank in the late 1970s to offer microcredit to the poor. The model has been copied in developing countries around the world.
He is often referred to as "the world's banker to the poor".
Last month, he stood down as the head of the Grameen Bank after a long-running row with the Bangladeshi government.
Authorities said he was over the legal retirement age, but supporters claimed his dismissal was politically motivated.
Prof Yunus has collaborated in the past with Glasgow Caledonian University.
In 2010, the university opened the Grameen Caledonian College of Nursing in Bangladesh to help bring nurse and midwifery training to an international standard.
Glasgow Caledonian later that year set up the Yunus Centre for Social Business and Health, which researches the impact of microcredit on the health and well-being of communities in Scotland and overseas.
Prof Yunus said: "I look forward to building on the fruitful relationship that has already been established and has produced benefits which are helping to improve the quality of life for people in both our countries."