Robert Wiseman milk price cut angers farmers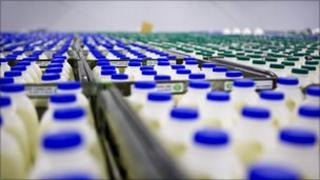 Farmers' leaders have reacted angrily after Britain's biggest fresh milk company, Robert Wiseman, moved to cut milk prices.
Wiseman, which was taken over by European dairy giant Muller in January, is to reduce the farm-gate milk price by 1.7p a litre from 1 August.
It blamed the move on a collapse in the value of cream over the past year.
NFU Scotland said the cut had "sent shock waves through the whole dairy sector".
The reduction follows a 2p per litre cut introduced by Wiseman in June.
East Kilbride-based Wiseman said it had hoped that a further reduction could be cancelled out by a "sustained and significant rally of commodity market values".
But it added that markets remained at levels not seen since early 2010, when the average milk price in the UK was 24.19p per litre.
Wiseman's standard litre price from August will be 24.73p.
'Major disappointment'
Wiseman milk procurement director Pete Nicholson said: "We know that this news will come as a major disappointment to Wiseman Milk Group members.
"We have done everything we can to minimise the reduction in our farm gate milk price but we must now reflect the substantially lower returns from the markets which we serve."
NFU Scotland claimed the cuts meant an average Wiseman supplier, producing around 1.4 million litres of milk a year, could potentially lose more than £50,000 in annual income from sales.
Chairman of NFU Scotland's milk committee, Gary Mitchell, said: "The seriousness of this price move should not be under-estimated by any in the dairy supply chain or our politicians. A cut of this scale has sent shock waves through the whole dairy sector.
"Prior to being taken over by Mueller, Robert Wiseman Dairies had a proud record in delivering league-topping prices.
"But for it to lead the way in slashing returns to its producers is in stark contrast to the company's normal approach to pricing."
Mr Mitchell added: "Although Mueller/Wisemans have opened the door, we would urge all other processors to take stock and seriously consider the importance of delivering a fair price, confidence and stability to their suppliers rather than adopting a knee-jerk reaction and following suit."