Irn Bru maker AG Barr extends US energy drink deal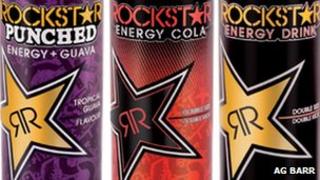 Irn Bru maker AG Barr has extended a deal to sell and distribute an American energy drink brand in the UK and Ireland.
The Cumbernauld-based firm said it had signed a new 15-year franchise agreement with Rockstar Inc.
The deal extends a partnership between the firms which has been in place since 2007.
Rockstar, which is based in Las Vegas, bills its product as "the world's most powerful energy drink".
Its range includes ginseng, guarana and taurine and offers a high caffeine content of 32.1mg of caffeine per 100ml.
The company said the energy drink was "designed for those who lead active and exhaustive lifestyles".
In a statement, AG Barr said: "This amendment to our existing agreement will extend the current contract through to 2024, further cementing the strong relationship between the two companies and highlighting the future growth potential of the Rockstar brand in the UK."