Living off the fruits of summer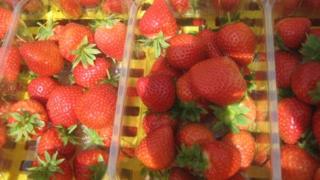 Huddling under a tarpaulin, sheltering from a combination of sunshine and the odd shower, it is just after midday and a group of fruit pickers, mainly from Eastern Europe, is getting ready to head into polytunnels to pick strawberries.
"You know what to expect, those of you who've been here before," they are told. "Pick cleanly and pick up the rubbish please".
There are just over 200 acres of soft fruit under polytunnels at this farm on the outskirts of Blairgowrie in Perthshire. As well as strawberries it grows raspberries, blueberries and other berries.
Farmer Peter Thomson's family has been growing berries for years, initially in fields around their family's former textile mill.
He tells me that the industry has really changed, especially because of the use of polytunnels.
"It was a very short season," he says. "Raspberries had about three weeks when you were picking a lot. It was impossible really to have a main business as that.
"Now (for) most growers, the soft fruit is their main business."
Mr Thomson is part of a co-operative of soft fruit farmers. In the last couple of years they have been trying to develop their wholesale market, but the main customers are the supermarkets.
"They're good customers," he says, "because in general they have, in the last 20 years... been paying more than the wholesale market, they also take big volumes.
"They have pretty exacting requirements which we're happy to follow, but if they have a surplus of fruit they just won't take any more.
"Obviously they're not going to take fruit they can't sell but it's heartbreaking to us when that happens."
Scarcity value
The challenges of the industry have led soft fruit farmers to try to develop and adapt their businesses. Some have been experimenting with growing methods or variety of fruit.
In Peter Thomson's case, they have been producing a berry drink and looking at different crops like blueberries, which at the time of year they are being grown in Scotland they are not being grown elsewhere. That gives them scarcity value.
Back in the strawberry field and the pickers bring the berries to a central point to be checked and weighed. One of them is 21-year-old student Ondrak Kalak from the Czech Republic. It is his second year on the farm, and a chance to see "new places".
There can be up to 400 people working on the farm at the height of the summer compared to a permanent staff of about a dozen. That, along with the weather and tight margins, brings challenges.
"It's wonderful growing such a good product," Peter Thomson tells me. "It definitely has its downsides, we don't make the money we'd like and you lose money in bad seasons, but it does have its compensations.
"You definitely have to be an optimist to be a soft fruit grower."
You can hear more about the business of soft fruit growing by listening to BBC Radio Scotland's Business Scotland programme on Sunday at 10:05. It will be available to hear again on BBC iPlayer and by free download.