Alex Salmond to promote Scotland in California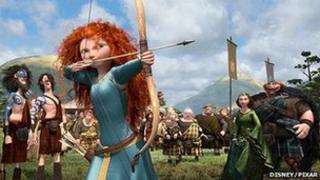 First Minister Alex Salmond is to visit California this month in an effort to build on economic links and encourage inward investment in Scotland.
Mr Salmond will undertake a series of engagements in Los Angeles, Sacramento and San Francisco which will focus on innovation, tourism and jobs.
During the four-day trip, he will meet US politicians and business leaders.
Mr Salmond will also attend the world premiere of the animated film Brave, which has a mythical Scottish setting.
The Scottish government estimates that the Disney/Pixar film, which is due to open at the Los Angeles Film Festival, could boost the Scottish economy by £140m.
The premiere will bring together Disney/Pixar and tourism agency VisitScotland, who are collaborating on a global marketing campaign to showcase Scotland across the world.
Inward investment
The first minister will then travel to Sacramento, where he will outline to US politicians the importance to the Scottish economy of sustained investment by global California-based corporations.
Mr Salmond will also promote Scotland's record in attracting investment from US and major global companies in a speech to the Commonwealth Club of California in San Francisco.
Business visits will include a trip to Stanford University to see the work of the SU2P, a venture between Stanford and Strathclyde, Heriot-Watt, St Andrews and Glasgow universities which is designed to capitalise on leading research in the photonics sector.
The first minister said: "Scottish companies are operating in a highly competitive global economy, and the Scottish government and our agencies are using every opportunity available to boost investment, tourism, and jobs.
"The US offers huge potential, and Scotland and Scottish companies are ideally placed to take advantage of the outstanding opportunities that are available.
"This visit will help us identify and enhance the opportunities for real, practical innovation and collaboration, and bring investment and jobs to Scotland."