FlyBe to take on BmiBaby routes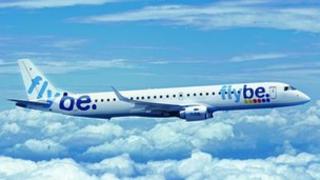 Airline FlyBe is to start flying between both Edinburgh and Glasgow and East Midlands Airport, on routes which are being abandoned by BmiBaby.
The no-frills airline is being grounded by BMI's new owner, IAG, unless a buyer can be found for it by September.
FlyBe is also to take on BmiBaby routes from the Leicestershire hub that would link it to Paris, Amsterdam and Jersey.
In addition, FlyBe is set for a role in the possible takeover of the BMI Regional division, based in Aberdeen.
Sources close to the negotiations have told BBC Scotland that the division, which flies more than 15 commuter jets between smaller city airports, is close to a sale by IAG to a consortium known as Granite Aviation.
But whereas it had planned to create a new Scottish airline, or to take over the BMI brand, it is understood the talks have shifted towards a plan that would see the new firm flying as part of the FlyBe network.
That would bring the advantage of FlyBe's marketing and ticketing arrangements, with links into the IAG network.
However, the airline already has a similar arrangement with Loganair, to fly Highlands and Islands routes as part of the FlyBe network.
A FlyBe spokesman said the airline did not comment on speculation.