Prestwick Airport records big fall in passenger numbers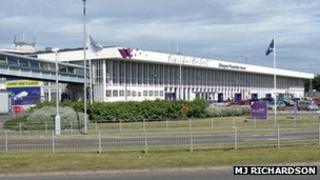 Prestwick Airport, which has been put up for sale by owners Infratil, has seen passenger numbers fall by a third over the past year.
The airport recorded a total of about 140,000 passengers in the first three months of 2012 - compared with almost 214,000 for the same period last year.
Freight figures also fell from almost 3,300 tonnes for the first three months of 2011 to 2,925 this year.
Over the 12 months to the end of March, Prestwick handled 1.22m passengers.
That figure was about 300,000 down on the previous year.
Infratil announced in March it would sell its 100% stakes in Prestwick and a second UK airport, Kent Manston.
The New Zealand infrastructure investment company has since selected PricewaterhouseCoopers to undertake the sales.
Glasgow Prestwick has had several owners in recent years.
In 1991 the newly-privatised British Airports Authority, BAA, put the airport on the market.
The following year, it was bought by Canadian businessman Matthew Hudson who sold it six years later to transport group Stagecoach.
Stagecoach then sold it to Infratil in 2001 for £33.4m.
Prestwick has in the past relied heavily on Ryanair flights, which have been cut back sharply in the last two years as the airline moved business to Edinburgh.