Johnston Press to relaunch titles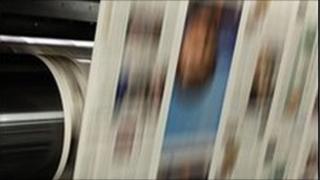 Scotsman publisher Johnston Press is to re-launch all of its 170 paid for titles.
The company said the move was designed to embrace "platform neutral" publishing.
It is understood the group is hoping to improve its online service while retaining current readers to its papers.
However as part of the revamp, which will start in England, some daily papers will become weeklies.
The initial phase of the re-launch will focus on five centres currently producing daily print titles - Halifax, Kettering, Northampton, Peterborough and Scarborough.
As part of the overhaul in late May, the company will create "platform neutral" newsrooms at each centre.
Johnston said that with significant investment in both print and digital services, it would be able to publish online seven days per week.
The daily papers in those areas will become a weekly "bumper print edition of a newly formatted newspaper" .
Johnston said there were no plans to turn The Scotsman into a weekly paper although it said that all of the 170 paid for titles would "benefit from a major redesign exercise".
The company's websites are to get a "light touch re-launch" with a "deeper change" planned for July 2012.
Local commitment
Chief executive Ashley Highfield said: "Our publishing strategy going forward will ensure that we give our local audiences what they want.
"While providing our existing audiences with an even better product, both in print and online, we will extend our audience by increasing our online content and making it easier to access in the most relevant ways as technologies continue to evolve."
He added: "We are committed to remaining a local company: that means local journalists and sales people working across the UK and Republic of Ireland, staying close to the communities and businesses they serve."