Bank of Scotland reports 'marked' rise in Scottish job vacancies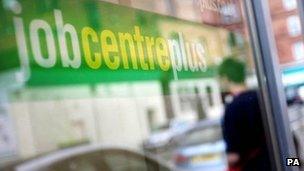 The number of permanent job vacancies in Scotland rose "markedly" in March, according to a survey of recruitment agencies.
The latest Bank of Scotland report on jobs said the rise was the strongest it had recorded since last August.
All eight employment sectors posted an increase in permanent vacancies, with IT and computing leading the way.
Average pay for permanent and temporary staff also rose at their fastest rates in several months.
The Bank of Scotland's jobs barometer - which is designed to provide a snapshot of labour market conditions - stood at 54.6, up from 52.4 in February.
Measurements of 50 and above represent expansion, while numbers below 50 suggest contraction.
The report indicated an increase in the number of people placed into both permanent and temporary work last month, with recruitment agencies generally linking this to greater client demand.
Edinburgh-based recruitment agencies reported the strongest increases in both permanent and temporary staff placements during March.
Permanent salaries increased at the fastest rate in Aberdeen, closely followed by Edinburgh, while the strongest rise in temporary hourly pay rates was posted in Dundee.
Bank of Scotland chief economist Donald MacRae said: "The Scottish labour market showed a further improvement in March with the barometer at its highest level since last July.
"The number of people placed into permanent jobs increased solidly in the month while temporary job placements rose at the strongest pace in seven months.
"Job vacancies for both permanent and temporary jobs rose across all eight sectors for permanent jobs and in six of the eight sectors for temporary jobs."
He added: "This provides further evidence of an economy beginning to reverse the slowdown experienced at the end of last year and raises hopes of a return to moderate growth in 2012."
Related Internet Links
The BBC is not responsible for the content of external sites.