John Swinney unveils enterprise area plans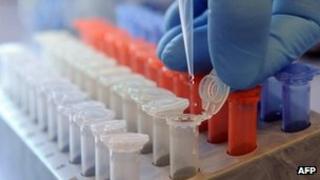 Measures to encourage investment in key economic areas of Scotland have been unveiled by Finance Secretary John Swinney.
They include offering tax breaks and fast-tracked planning approval for firms in four new enterprise areas.
In January, Mr Swinney identified four sectors considered to have the greatest potential for growth and new jobs.
They include life sciences, low carbon/renewables and general manufacturing.
The sectors are spread over 14 sites, stretching from Ayrshire to Orkney.
Under the new measures, some businesses could claim up to 100% rates relief, which could be worth up to £275,000 over the five-year timeframe of the enterprise area policy.
Firms will also benefit from streamlined planning, high-speed broadband, international marketing assistance and skills and training support.
The Scottish government worked with Scottish Enterprise and Highlands and Islands Enterprise (HIE) on putting together the four areas.
Port visit
Mr Swinney revealed the new incentives during a visit to the Port of Dundee.
The port is part of the "low carbon/renewables east enterprise area", which is split between waterfront land at the port and an industrial site two miles inland at Claverhouse East.
The port is also a key renewables site identified within the National Renewables Infrastructure Plan (N-RIP).
It is one of two low carbon and renewables areas, with the second in the north focusing on Hatson and Lyness in Orkney, Arnish in the Western Isles and Nigg and Scrabster in Highland.
The third enterprise area focuses on life sciences, with sites in Irvine, Moray, Highland, Edinburgh and Midlothian.
The fourth area, for manufacturing, will take in the Creative Clyde waterfront area of Glasgow and Prestwick International Aerospace.
Mr Swinney said: "The Scottish government and our enterprise agencies are working hard to retain Scotland's position as the most competitive environment for business in the UK.
"We are doing all we can to support jobs and secure new investment in our communities, and enterprise areas are another means to help us achieve this."