Bank report: Employment up on back of 'strong' growth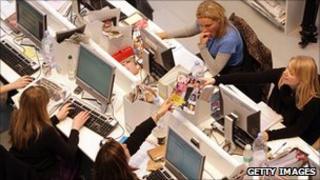 Strong growth in Scotland's private sector economy last month led to the steepest monthly rise in employment since July 2007, according to new data.
Bank of Scotland analysis suggested output at private sector businesses grew at the quickest rate for a year.
The bank said the results suggested the beginning of a reverse in the slowdown seen at the end of last year.
It suggested stronger growth was in part the result of a faster increase in incoming new business.
The bank's Purchase Managers Index, which monitors activity across Scotland's manufacturing and service industries, rose from February's 51.7 mark to 54.1, the sharpest increase in output for 12 months.
Readings above 50.0 signal an increase or improvement, while readings below 50.0 signal a decline or deterioration.
It was the 15th straight monthly increase in total private sector output.
The report found growth had accelerated faster in service sector activity, with goods production increasing at a more modest pace.
New work
New business inflows also increased at a faster rate during March and service providers saw a stronger rise in incoming new work over the month.
Bank of Scotland chief economist Donald MacRae said: "March's PMI rose at the fastest rate for a year, suggesting the private sector of the Scottish economy is beginning to reverse the slowdown experienced at the end of last year.
"The rise in new business orders and employment in both manufacturing and services is particularly welcome.
"Although growth in manufacturing output was modest, new export orders rose during the month, perhaps reflecting reducing concerns over the sovereign debt crisis in the eurozone."
He added: "Prospects for avoiding a 'double dip' and a return to moderate growth in 2012 have improved."
Finance Secretary John Swinney said: "There are encouraging signs of growth in both manufacturing and service sector employment, and new business orders.
"This government and our enterprise agencies are doing everything we can to support recovery, and to retain Scotland's position as the most competitive environment for business in the UK."
The Bank of Scotland PMI is produced by Markit and features survey data from about 600 companies based in Scotland and operating in manufacturing and service sectors.