Citizens Advice Scotland launches graduate survey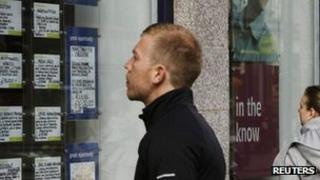 Citizens Advice Scotland (CAS) is launching a national online survey of recent graduates who are struggling to find work.
The move comes after its advisers across Scotland reported a rise in graduates facing financial problems because they could not get jobs.
CAS wants to investigate the extent of the problem and to give those affected "a platform to have their say".
The online survey is due to run until 7 May.
It is aimed at anyone in Scotland who has graduated in the past six years.
CAS said the survey would seek their views on their current situation and their hopes for the future.
It will also ask how well they think their university prepared them for the job market, and how well they feel they are treated now by job centres, government and employers.
'Bleak outlook'
Launching the survey, CAS acting chief executive Susan McPhee said: "It used to be the case that a degree would lead to economic security.
"Since the recession, however, the outlook for recent graduates has been bleak.
"In the final quarter of 2011 the unemployment rate for recent graduates was 18.9% - more than double the national average. Meanwhile 35.9% of graduates who are in work find themselves in a lower level of employment."
She added: "With this survey we are providing a platform to allow these people to speak up about their situation.
"We want them to tell us about their experiences of jobseeking, their attitudes towards the job centre, their views on what support is available from government, and whether they think they'll be able to find suitable work in the future."
Recent graduates can complete the survey on theCAS websiteor on its facebook page.