North America trade links drive launched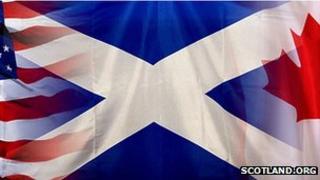 Efforts are under way to forge new trade links between Scotland and North America.
Two Scottish ministers are visiting the USA and Canada to promote Scottish business, tourism and culture.
Culture Secretary Fiona Hyslop and Enterprise Minister Fergus Ewing also hope to attract more foreign direct investment to Scotland.
They will hold business meetings and promotional engagements in the USA and Canada as part of Scotland Week 2012.
Ms Hyslop flew out to New York on Friday and was scheduled to travel to San Francisco, Vancouver and Chicago for a series of cultural engagements and business meetings around the creative industries and tourism.
Mr Ewing is also on a week-long visit to Houston, Calgary and New York to meet business leaders in growth sectors such as renewable energy, oil and gas, financial services and tourism.
He will finish the week in New York, taking part in the Tartan Day Parade through the streets of Manhattan on Saturday.
The ministers have been working with Scottish Development International and VisitScotland on their trips.
Biggest export market
The USA is Scotland's largest single international export market, worth an estimated £3.5bn a year.
It is also the biggest single market by value for whisky exports of £655m.
Meanwhile, 15 Glasgow companies are setting off on a trade visit to the USA.
Firms from sectors including food and drink, transport, manufacturing, law and education will be visiting Chicago and New York.
The five-day trip has been organised by the Scottish Council for Development and Industry (SCDI) and Glasgow City Council.
The trade visit will be led by Glasgow's Lord Provost, Bob Winter.
The trip follows on from a trade visit last year to Toronto and New York, which saw Glasgow firms win business worth £1m.
Mr Winter said: "Glasgow has always enjoyed strong trading links between Chicago and New York and this visit will ensure companies in the city are supported to achieve their ambitions in two of the world's most dynamic cities."
SCDI international director Jane Gotts said it was important to encourage more companies in Scotland to broaden their horizons and trade internationally.
She added: "The US economy is picking up and doing well.
"Companies here recognise that in a challenging domestic market, they need to look at overseas opportunities and that's one of the benefits of actually taking them out on a visit like this."
Philip Hannay, managing director of Glasgow-based Cloch Solicitors, said he was going on the trip in order to "form a dialogue with the Americans".
He said: "I have already worked on Wall Street over a decade ago so I'm returning to New York to re-establish links for the benefit of the clients that I have here in Scotland.
"Some clients which are product-based are certainly looking to export right now and I am looking to support that."