RAF precision weapons deal 'to safeguard jobs'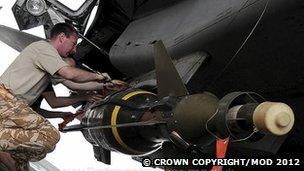 A £60m deal for RAF precision weapons will safeguard hundreds of jobs in Scotland and England, the Ministry of Defence (MoD) has said.
Raytheon UK has been awarded a contract for an unspecified number of Paveway IV precision bombs.
The MoD said it would sustain 450 jobs in advanced weapons manufacturing at Raytheon's plants in Glenrothes, Fife, and Harlow, Essex.
Jobs will also be safeguarded at other firms in various locations in England.
The Glenrothes plant will be responsible for the bomb's guidance control section and will also undertake the final integration of the complete guidance unit.
Thales Missile Electronics at Basingstoke will be responsible for the design and manufacture of the weapon's multi-event hard target fuse, while other work will be sustained at Portsmouth Aviation, EDO/MBM Technologies in Brighton and Raytheon System's plant at Harlow.
Defence Minister Peter Luff said: "The Paveway IV bomb has been proven in combat in Afghanistan, where it continues to equip RAF Tornados, and in operations in support of the UN over Libya.
"It is a highly sophisticated weapon and this contract will both boost the MoD's weapon stocks and support the employment of hundreds of skilled staff at plants across the UK who are working on this project."
Paveway IV was first introduced to operations in Afghanistan in 2008 and there are plans to fit it to the RAF's Typhoon combat aircraft in 2013.
The weapons are fitted with Global Positioning System (GPS) technology and laser guidance systems, allowing them to overcome difficulties such as cloud cover or smoke screens.
Related Internet Links
The BBC is not responsible for the content of external sites.