Cairn Energy buys Norwegian oil company Agora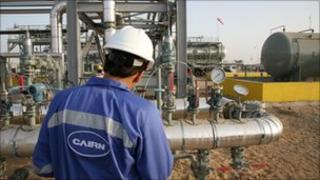 Oil explorer Cairn Energy has announced it is to buy Norwegian rival Agora Oil and Gas for $450m (£281m).
Edinburgh-based Cairn said the move would add drilling to its 2012 exploration programme, with up to nine Agora wells scheduled to be drilled off the UK and Norway.
Agora is currently owned by RIT Capital Partners and Lord Rothschild's family interests, along with management.
The transaction is subject to consent from regulators in the UK and Norway.
The acquisition will be covered by a combination of about 43% cash and 57% Cairn shares.
Cairn's share price rose by more than 5% in early trading following the announcement.
The purchase includes Agora's 15% stake in the Catcher area planned for development and a 20% interest in the Tybalt discovery, which both have further drilling programmes planned this year.
Portfolio 'balance'
Three Agora wells are currently operating - two exploration wells (Skarfjell and Cladhan South) and one appraisal well (Tybalt).
Cairn Energy chief executive Simon Thomson said: "This is an important first step in establishing balance in the Cairn portfolio.
"This acquisition secures a building block in areas where we see the opportunity to build cash flow from near term, lower risk exploration, development or producing properties.
"Agora possesses attractive core assets and significant exploration potential both in 2012 and beyond in an area offering future organic growth."
He added: "The addition of these assets will aid the company's vision to create significant value within a well balanced portfolio of exploration and production assets."
Record profit
Last month, Cairn announced a record profit of $4.6bn (£2.9bn) last year, after completing the sale of a 40% stake in Cairn India.
Cairn said net proceeds of the sale to mining group Vedanta were about $5.4bn, allowing a cash return of $3.5bn to shareholders in February.
The firm has retained more than $1bn to fund its ongoing capital expenditure programme.
In January last year, it was awarded two exploration permits in the Gulf of Valencia, Spain. Cairn recently opened a small office in Madrid and is currently pursuing other acreage in Spain.
Later this year, the company will bid for exploration opportunities off Lebanon and Cyprus.