FirstGroup warns of weak UK bus market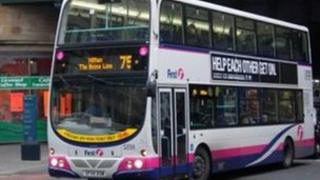 Aberdeen-based transport firm FirstGroup has warned that margins at its UK bus division will be squeezed from 13% to 8% this year.
The company said the north/south divide was widening "with considerably lower growth rates emerging in Scotland and the north of England".
Poor economic conditions and cuts in government subsidies have been blamed for the deterioration in trading.
Shares in the transport group fell by more than 15% at one point.
However the company said overall it expected to hit earnings and cash targets for the year.
First's three US businesses made progress amid "positive signs" in the economy.
In rail in the UK, the company said there had been "robust revenue growth".
The performance of the UK bus division was one of the few weak spots in the group's latest trading statement.
It said it did "not expect revenue growth and cost efficiencies to be sufficient to offset the impact of reduced government subsidies and funding to the industry".
First raised the spectre of further cuts in this part of the business: "In addition to the programme of selective asset and business disposals already commenced in the period, we are accelerating a comprehensive plan to significantly reposition the portfolio in the coming year".
Late last year, FirstGroup asked the Office of Fair Trading for permission to cut back on bus routes linking Glasgow city centre with destinations to its east.
Meanwhile the Aberdeen group has been confirmed as a preferred bidder for two rail franchises and Perth-based Stagecoach has also reached the shortlist for two out of the three contracts out to tender.