William Grant and Sons to build new Irish distillery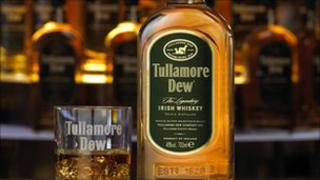 The spirits firm William Grant & Sons has announced that it intends to build a distillery for its Tullamore Dew whiskey brand in Ireland.
The £35m investment will bring whiskey production back to the County Offaly town for the first time since the original distillery closed in 1954.
The Speyside-based distillers said the development would meet the long-term production demands for Tullamore Dew.
Demand for the brand is currently growing by more than 15% annually.
William Grant & Sons bought the spirits and liqueur business from the Irish company C&C group for around £250m in July 2010.
Work on the new distillery, which will utilise the latest in green technology, is scheduled to begin later this year, subject to planning permission.
William Grant & Sons Chief Executive Stella David said: "This investment underpins our long-term commitment to Tullamore Dew, the town of Tullamore and Ireland.
"It represents an important next step in the long-term growth and development of the Tullamore Dew brand, one of Ireland's food and drink export success stories which is now the second-largest selling Irish whiskey worldwide."
According to the company, the plan for a new distillery has been prompted by the brand's rapid growth, driven largely by increased consumer demand for Irish whiskey in the USA and emerging Irish whiskey markets such as Germany, Sweden and Eastern Europe.