Smaller losses for oil explorer Bowleven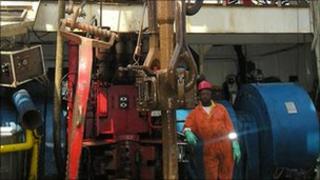 Edinburgh-based oil company Bowleven has reduced losses over the past six months and found oil in two of its exploration wells in Cameroon.
Bowleven said it was fully funded for its two exploration sites in Cameroon.
The company, which specialises in oil and gas exploration in West Africa, had been the target of a potential takeover by Dragon Oil.
However, Dragon said last month that it was "no longer exploring an offer" for the firm.
Losses at Bowleven for the six months to December 2011 were $5.5m (£3.5m), down from $15.7m (£9.9m) in the same period the previous year.
Investors reacted positively to the news, with shares in Bowleven up by 14% in early trading.
Bowleven chief executive Kevin Hart said: "We are pleased with the progress we have made towards our dual objectives of converting resources to reserves and further exploring the significant potential of the Douala Basin (in Cameroon).
"Considerable progress was made in the second half of 2011 and the momentum has continued into the current year.
"Our forward programme is focused on delivering the development of the Etinde resources and commencing exploration drilling on Bomono."