Higher turnover and profits for Irn Bru maker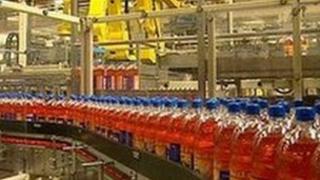 AG Barr, the maker of Irn Bru, has reported a significant increase in turnover and profits.
Final results for the year ending January 2012 show turnover up by 6.6% at £237m. Profit, post exceptional items, increased by 16.4% to £35.4m.
The company said it has overcome operational problems at its Cumbernauld production base and plans are well advanced for a new plant at Milton Keynes.
Sales of Irn Bru grew at a modest 2.7%.
Chief executive Roger White said: "AG Barr has demonstrated its resilience in the face of challenging market conditions, in particular coping with substantial raw material cost headwinds while achieving revenue growth based on brand development, innovation and improved focus on execution.
"Our operational performance improved substantially in the final quarter of last year and we are now beginning to see the benefits of our investment in our production assets.
"We are further reinforcing our confidence in our future growth prospects with the confirmation of our plans to invest in a new site, with substantial future capacity, in the Milton Keynes area."
The company reported that its new production and warehouse operation in the Milton Keynes area is in the "final stages" of contractual discussions.
Barr's Cumbernauld site is reported to be "performing well" after difficulties in the summer related to late commissioning.
Roger White added: "We anticipate 2012 will be another challenging year in the UK, with household disposable incomes remaining under pressure."