Aggreko buys Poit Energia in £140m deal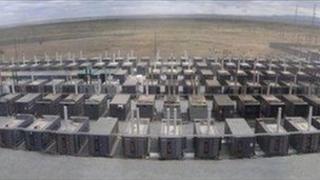 Temporary power company Aggreko has confirmed that it is to buy a South American business.
The deal to acquire Poit Energia is valued at £140m.
Poit Energia was founded in 1999 and operates in Brazil, Chile, Argentina and Peru. In 2011, its revenues were £46m.
Glasgow-based Aggreko is one of the world's largest suppliers of temporary generators, temperature control systems and related electrical equipment.
Poit Energy, which supplies similar services, has been expanding rapidly. Revenue has grown at an annual rate of 45% in the past three years.
Aggreko chief executive Rupert Soames said: "We are delighted to have this opportunity to further strengthen our business in South America, which has been one of the fastest-growing parts of our business over the last three years, and we greatly look forward to welcoming the employees of Poit Energia into the Aggreko team.
"This is the fifth acquisition we have done in the local business in the last four years and we are confident that Poit Energia, like the others, will add value to Aggreko."
The company has said the existing senior management team at Poit Energia, including founder Wilson Poit, will stay in place.
Mr Poit said: "We have long admired Aggreko, and have the same focus on specialist, high quality, energy rental; as a consequence, our businesses are very similar, and have a very similar ethos.
"Poit Energia has now come to the point at which its further development is best done within a larger group, which will allow our customers and staff to benefit from the resources and opportunities Aggreko can bring them."