T in the Park festival 'worth £40m' to Scots economy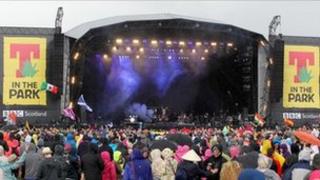 Scotland's biggest music festival, T in the Park, was worth more than £40m to the Scottish economy last year, according to organisers.
The figures included local spending and estimated benefits accrued from media coverage.
The total was more than double the £18m estimate made when research was last conducted in 2005.
The announcement came as the festival was granted planning permission for the next two years.
Figures compiled by consultants Ekos were presented to the council's planning committee.
They suggested the event's "significant economic impact" to Scotland was almost £9.6m - a 31% increase since the last study in 2005.
At Tayside level, the impact was estimated at £3.7m - an 80% rise from 2005 - while the event generated more than £2.7m for Perth and Kinross.
The media impact of the event was estimated to have risen to more than £30m.
That figure was calculated by DF Concerts and Events, which looked at the estimated benefits to tourism and other industries from news articles generated in print and online, as well as television coverage.
A spokesman for the event said: "These figures show T in the Park's continued and increased value to the Scottish economy as a whole, as well as at a local level.
"The festival has taken place in Kinross for 14 years and we are delighted that we will be continuing our commitment to the area and our positive relationship with the local community and the council."
The 19th T in the Park festival in Balado, near Kinross, will be held over the weekend of 6-8 July.
Main stage headliners include Snow Patrol, Kasabian and The Stone Roses.