Tesco loses Supreme Court bid to stop new Asda store in Dundee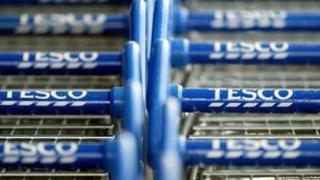 A legal bid by Tesco to stop Asda building a large store close to one of its supermarkets has been dismissed by the UK Supreme Court in London.
The row began when Tesco objected to its rival's plans for a store on the outskirts of Dundee.
Tesco alleged Dundee City Council failed to follow its own planning policy in allowing the development.
But the court ruled the council had not made an error in interpreting its policy.
Asda has claimed the development would create 500 jobs and encourage regeneration in a struggling part of the city.
The company was granted planning permission for a new outlet at the site of the former NCR factory to the west of Dundee in 2010. It said it planned to invest £24m in the site.
But Tesco, which has an established store nearby, challenged the decision by the local authority.
The Court of Session, the highest civil court in Scotland, ruled that the city council had acted correctly. Tesco then appealed to the UK Supreme Court in London.
Similar rows have erupted between the companies in East Kilbride and in Larkhall.
'Flexible approach'
In East Kilbride it was Asda which sought a legal ruling against planning permission granted to Tesco.
Tesco's objection in Dundee was to a proposed Asda superstore on Myrekirk Road, about 800m from an existing Tesco store on South Road.
The company's attempt to stop it hinged on a claim that Dundee City Council had misinterpreted planning policy, which states that out-of-town developments should be avoided if other "suitable" sites are available closer to the centre.
In their ruling, the judges said planning authorities could not make development plans "mean whatever they would like it to mean", but added: "In the present case, it is apparent that a flexible approach was adopted.
"An error in interpreting the policies would be material only if there was a real possibility that the determination might have been different.
"The court is not persuaded that in the present case there was any such possibility."
Asda said it would now being working on the 52,000 sq ft store, which it hopes to open in 2013.
Spokeswoman Lisa Rooke said: "The decision by the Supreme Court is absolutely fantastic news for Asda and we are relieved to finally be able to get to work on developing the new store.
"Despite over two years of setbacks and delays, we have remained fully committed to our development and we're excited to be able to proceed at last."