Cairn Energy reports record profits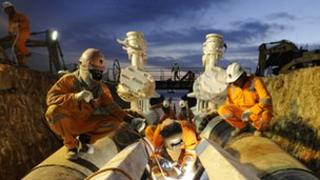 Oil explorer Cairn Energy made a record profit of $4.6bn (£2.9bn) last year, after completing the sale of a 40% stake in Cairn India.
Cairn said net proceeds of the sale to mining group Vedanta were about $5.4bn, allowing a cash return of $3.5bn to shareholders in February.
The Edinburgh-based firm has retained more than $1bn to fund its ongoing capital expenditure programme.
Cairn also reported an operating loss from continuing operations of $1.1bn.
Much of the loss stemmed from an unsuccessful five-well drilling programme offshore Greenland in 2011.
Cairn has now sold a 30.6% interest in the Pitu block in Greenland to Statoil.
The company said that while it had so far not established commercial quantities of hydrocarbon, it remained "convinced that all of the ingredients for success in Greenland are present".
Cairn chief executive Simon Thomson said the company had delivered on its key objectives for 2011.
Cairn has retained a 22% share in Cairn India, following the stake sale to Vedanta.
The explorer said its remaining stake provided "financial flexibility and an excellent platform for Cairn to pursue future growth opportunities".
Cairn is active in various parts of the world.
In January last year, it was awarded two exploration permits in the Gulf of Valencia, Spain. Cairn recently opened a small office in Madrid and is currently pursuing other acreage in Spain.
Later this year, the company will bid for exploration opportunities off Lebanon and Cyprus.