Entrepreneurial Spark scheme for Scottish start-ups extended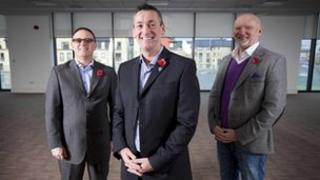 A business incubator scheme offering free services to help company start-ups has been extended.
Entrepreneurial Spark set up a centre in Glasgow last year giving new firms advice, free office accommodation, IT access and mentoring.
Now Sir Tom Hunter, who is backing the project, has turned over space at his headquarters in Ayrshire.
Up to 30 entrepreneurs will be able to use the facilities to help them get started.
East Ayrshire Council has also agreed to contribute £50,000 of funding per annum for the next three years, to be reviewed annually.
The scheme, Scotland's first business accelerator programme, was launched last November by entrepreneur Jim Duffy, as an alternative for start-ups who might otherwise go to consultants to develop their businesses.
Budding entrepreneurs are invited to take part in a 16-week accelerator programme, which runs every six months.