Bank of Scotland survey shows jobs market 'improving'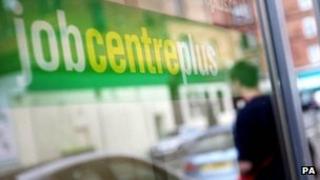 The latest survey into Scotland's jobs market in February has suggested the fastest rise in permanent appointments since October.
The Bank of Scotland survey also reported that the number of candidates placed into temporary positions rose.
Demand for staff in IT and computing was strong while vacancy growth in nursing slowed sharply.
The bank said it looked as if Scotland was "continuing a slow recovery from recession".
The monthly survey found that in Scotland, growth in the number of permanent and temporary candidates placed was faster than in the UK as a whole.
Strong demand
And the number of vacancies increased in seven employment sectors.
As well as IT, strong demand was recorded in the "executive" sector as well as in engineering and construction.
However, there was weaker demand in areas of healthcare and the number of permanent job vacancies in the secretarial sector fell for the fourth consecutive month.
Higher unemployment across the country was the most likely reason for the increase in number of candidates applying for each job, according to some of the recruitment firms surveyed.
The increased activity pushed pay higher, although some of the consultancies suggested that was down to specific skills shortages.
Across Scotland, the strongest increase in permanent placements was in Dundee while the fastest rise in temporary staff billings was in Edinburgh.
The chief economist at the Bank of Scotland, Donald MacRae, said: "The deterioration evident from April last year appears to have been arrested.
"This latest barometer reading suggests the Scottish economy is continuing a slow recovery from recession rather than lapsing back into recession."
Scottish government Finance Secretary John Swinney said: "There are encouraging signs in this month's survey, with the barometer showing the 16th consecutive monthly improvement in labour market conditions in Scotland, and the highest rate of improvement since last October.
"However, we must not be complacent. Last week's labour market statistics made clear that we need sustained action in this week's UK Budget to support economic recovery."