Zara apologises for misusing Harris Tweed name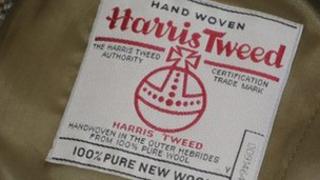 The Harris Tweed Authority has forced the internet trading arm of fashion retailer Zara to stop misusing its name.
Earlier this year ITX Fashion Limited was selling a product on its website described, but not actually labelled, as a Harris Tweed blazer.
The authority said that because the jackets had not been made from Harris Tweed, ITX had broken the law.
ITX has apologised and the case has been settled "amicably".
The fashion firm has made assurances that it will not happen again.
The authority said it accepted that the incident was "not deliberate and was an oversight on the part of ITX".
However, it said it treated such conduct "with the utmost seriousness".
It said: "Misuse of the Harris Tweed name risks diluting it and undermines the integrity of an iconic Scottish name."
The Harris Tweed Act of 1993 ensures the name and symbol can only be used for fabric "handwoven by the islanders of Lewis, Harris, Uist and Barra in their homes, using pure virgin wool that has been dyed and spun in the Outer Hebrides".
Sales soar
Recent sales of Harris Tweed have soared, reaching one million metres for the first time since 1993.
The industry, which dates back more than 100 years, employs more than 250 craftsmen and women.
Lorna Macauley, chief executive of the Harris Tweed Authority said: "We have a legal remit to protect and safeguard the historic fabric which is now synonymous with Scotland.
"The values of quality, beauty, skill and craft are embodied in the trademark and provide assurance for our customers that their Harris Tweed is genuine. Therefore we will never hesitate to challenge misuse of the name".