Canadian boost for Standard Life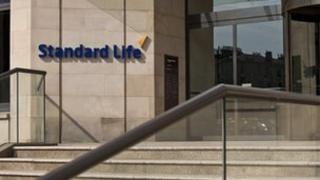 A strong performance in Canada and further cost cutting has delivered a 28% increase in operating profit for Standard Life.
The Edinburgh-based insurer made £544m last year compared with £425m in 2010.
Over the year, the company cut costs by £45m and said it was on target to achieve £100m of savings in the first half of 2012.
While income from the UK business fell slightly in 2011, in Canada profits increased by 70% to £187m.
Standard Life said it was "well positioned to benefit from the ongoing shift from defined benefit to defined contribution pension provision" in the country.
Overall the group increased long-term new business sales by 7% to £19.7bn.
Savings habit
Chief executive David Nish said: "The thing that I think is really key as we look to the UK in the future is re-establishing that savings culture so that individuals do begin to accumulate more wealth for the longer term as they have to take more responsibility for their longer term obligations."
He added: "While the economic backdrop remains uncertain, we are confident that the strong capital position of the Group, the demand for our attractive customer propositions and the continued improvements in operational and capital efficiency mean that we are well on track to achieve an ongoing improvement in financial performance."
On the issue of Scottish independence, David Nish said: "There are two c-words I'll use, clarity and certainty. I think very much as we go through the next few months, I think what businesses will want is greater clarity about what is proposed and greater certainty as the debate develops."
He added that the group had four million customers in the UK, most of them outside Scotland.
Standard Life shares closed at 237.6 pence on Monday, valuing the company at about £5.5bn. The stock is up 15.6% since the start of the year, outperforming many of its competitors.