Scottish homebuyers 'thin on the ground'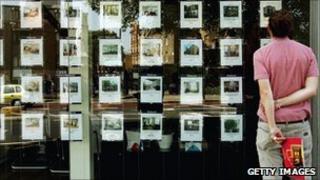 Scotland's surveyors have reported optimism among house sellers, despite buyers remaining "thin on the ground".
According to a report, surveyors in Scotland are the most negative in the UK about how many sales will be achieved in the next three months.
The Royal Institution of Chartered Surveyors Scotland (RICS) also found many members expected house prices to fall in the next three months.
The lack of mortgage finance is still being blamed for the subdued market.
Price falls
RICS Scotland said 7% of respondents to its monthly survey said prices had risen in the last three months, however 63% said they had stayed the same and 30% said they had fallen.
Scottish surveyors were also among the most pessimistic in the UK when it came to future prices, with many expecting a fall during the spring.
However, some in the industry have suggested there is an upturn in activity.
Alasdair Seaton, of DM Hall in Kinross, said: "The new year has seen an increase in sales activity. New properties for sale, if correctly priced and with a correct Home Report value, are selling reasonably quickly. Overpriced properties however will sit with little or no interest."
Malcolm Taylor, of Bell Ingram in Forfar, added: "The market is very slow and sellers' expectations are still too high."
Mortgage squeeze
RICS suggested a lack of finance was hampering activity.
Sarah Speirs, director of RICS Scotland, said: "The housing market in Scotland is still flat as affordable mortgage finance is still out of reach for many potential first time buyers.
"Some surveyors are reporting interest in the lower end of the market from investors and this could help get the market moving again, as people sell their first homes and move up the property ladder."
Iain M Lewis, from the Torrance Partnership in Portree, remained pessimistic.
He said: "The market conditions are likely to remain poor. Lenders are applying restrictive policies which are reducing significantly the number of first time buyers entering the market and this is causing a log jam."