RBS shareholders warn of court action over rights issue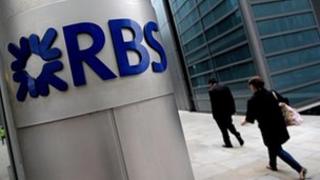 Shareholders are threatening to launch a multi-billion pound legal action against RBS and ex-directors including its former boss, Fred Goodwin.
They are accused of wrongly encouraging thousands of shareholders to invest in the bank shortly before it was saved by a £20bn bailout from the taxpayer.
RBS denied the claims and said it would defend itself "vigorously".
Lawyers for the group of shareholders are writing to RBS, Mr Goodwin and a small group of former directors.
The RBS Shareholders' Action Group has claimed that a rights issue which the bank undertook in 2008 was promoted on a "misleading basis".
The rights issue, which was priced at 200p, raised £12bn for RBS.
The shareholders, who lost out when the bank's share price collapsed, are issuing letters warning about potential legal action.
In a statement, RBS said it had "substantial and credible" legal and factual defences to any claims.