Daily Record sales up in February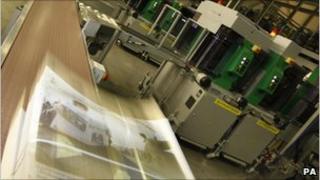 The Daily Record has seen its sales jump as readers follow the twists and turns of the crisis at Ibrox, according to the latest sales figures.
The Record saw its circulation jump to 291,000 last month.
It was the only popular daily newspaper in the UK to see its sales rise - although most of the increase was south of the border or in Northern Ireland.
The Record's sales rose in Scotland, but the Scottish Sun still outsells it by about 50,000 copies a day.
Every national newspaper saw its sales fall in January apart from the Record, the Sunday Mail and the Independent's cut-price sister paper "i", according to the figures from ABC.
One possible explanation for the Record's rise is interest in the crisis at Ibrox.
The Record's total sales of 291,825 in February compares to 276,003 in Janurary.
The Record's circulation in Scotland climbed only modestly, from 264,737 in January to 265,096.
But there was less good news for other major Scottish newspapers.
Falls
The Record's main rival, The Scottish Sun, fell from 319,864 to 315,575 on the month.
At the other end of the market, The Scotsman saw its sales fall 4% on January to 37,731 - its lowest sales figure in modern times. Its sister paper Scotland on Sunday fell 7% to 46,964.
Its Glasgow rival, The Herald, saw a smaller drop of 0.7% to 46,122 - its second lowest figure in recent decades. Its sister paper the Sunday Herald dropped 1% on the month to 30,771, but its circulation is still up on last autumn.
The figures for February only include the first week of sales for the Sunday edition of The Sun, which is audited separately from sales during the rest of the week.
Its first edition sold 3.2 million copies nationally, including 321,000 in Scotland. However, Rupert Murdoch has said its sales fell back in its second week.
Meanwhile, sales of the Sunday Post fell below 300,000 for the first time in living memory. It sold 291,623 copies a week in February.
The Sunday Mail sold 376,898 - up on February 2011 and January 2012.