Scotgold Resources discover platinum at Tyndrum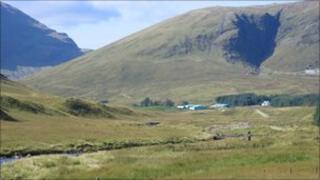 Scotgold Resources has uncovered evidence of platinum and other metals on a hillside near Tyndrum.
The company said the results of its drilling programme had shown an area of "highly anomalous gold and platinum group elements (PGE) with copper, nickel and cobalt".
Scotgold said the discovery at Sron Garbh added "an exciting new dimension" to its exploration programme.
It plans further drilling later this year.
Scotgold said the geological conditions were "highly promising" and similar to those "observed in major deposits such as Aguablanca in Spain, and certain parts of the Sudbury mines in Ontario, Canada".
Chris Sangster, chief executive of Scotgold, added: "The potential deposit style - 'magmatic Cu - Ni - PGE - Au' - adds an exciting new dimension to Scotgold's exploration program and represents a significant new target in addition to the narrow vein gold and other targets identified elsewhere within the Scotgold's licence areas.
"Scotgold are keen to advance further work in the area as soon as possible."
The company was awarded formal planning permission to mine for gold and silver in Loch Lomond National Park earlier this year.