Aviation drives John Menzies profits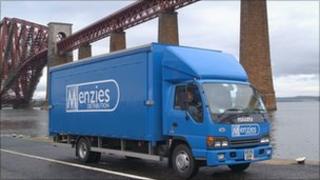 Edinburgh-based distribution and aviation firm John Menzies has announced profits up by a quarter to £56.4m.
The 179-year-old company said its aviation services overtook newspaper distribution as its biggest profits driver last year.
The group won 50 new contracts during the year which will generate £41m and it renewed 81 contracts worth £77m.
Turnover for the group reached a record £2bn.
Paul Dolman, Menzies' finance director, said: "The real growth is coming from our aviation division and we are now in 131 airports in 29 countries.
"People like easyJet are growing their business model and we are very much allied to the low cost end of the market. That's one of our specialities to deliver a quick safe turnaround service."
Recent deals secured by the group have included the contract to handle Flybe operations at Gatwick and Birmingham International from next month, as well as 134 easyJet flights a week at Toulouse, France.
In the distribution business, profits were flat on a year earlier despite newspaper volumes being down 8% and a 6% drop in magazine volumes.
The division handles five million newspapers and 2.1 million magazines every day, with deliveries to more than 25,000 customers.