Electric car centre set to open in Glasgow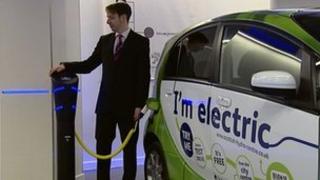 Motorists will be able to test-drive and hire electric vehicles at a new dedicated facility which is set to open in the heart of Glasgow.
The facility will open alongside a permanent renewable energy exhibition at power firm SSE's Scottish Hydro Centre for Renewable Excellence.
Cars, electric scooters and bikes will be available to rent from the centre, close to Glasgow Central train station.
The facility will also allow motorists to charge their vehicles for free.
SSE said it would be the UK's first dedicated centre offering free electric vehicle charging, as well as hiring and parking.
Kevin O'Neill, from SSE, said the centre would help address common "myths" about electric cars.
He said: "What we are trying to do with these cars is prove to people that if you are living in the city centre or outwith and use one of these vehicles for 20 or 30 miles a day, they are really easy and actually fun to drive.
"That is why we are inviting people down to try them out.
"We also have a hire facility so anyone coming off the train from London, say, can come along and get a hire car for the day and go to business meetings in central Scotland and bring it back."
'Power of Now'
The facility will be next to an interactive renewable energy exhibition run by SSE.
The Power of Now exhibition will include a display showing how a hydroelectric dam works and a simulation of the electricity network, showing how renewable generation connects to the transmission network and is then transported into the home.
There will also be a visual display of a "smart home", featuring the latest technology in heat pumps, electric heating and boilers.
Glasgow City Council leader Gordon Matheson said: "This new interactive renewable energy public exhibition will be a great educational tool for our city, especially our children.
"I am also sure the all-electric facility will help in our fight to reduce our city's carbon emissions and I'm delighted to see such a great resource now situated in the heart of Glasgow."