Growing pains and Scotland's future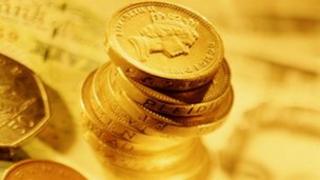 What difference would it make to have the independence referendum on a Saturday? In autumn, as the nights draw in?
When families could be on school holidays? And soon after the Ryder Cup and Commonwealth Games in Glasgow?
Then, how will voter sentiment be affected by the 700th anniversary of Bannockburn, only weeks before?
None of that matters nearly as much as probably the biggest question overhanging the choice of date for the referendum: how will the economy be performing by then?
Sluggish
Today, we've got a first cut on what the answer might be. The Fraser of Allander Institute at Strathclyde University has delivered a gloomy forecast for this year, down from the 0.9% growth forecast for 2012 it published last November. Now, its central forecast is for only 0.4% growth.
That translates into growth for 2013 of 1.7%. And for 2014, which looks like the year of the referendum, it reckons on growth of 2.6%.
That sounds quite healthy, by recent standards. It's certainly a lot better than now. It assumes the most benign factor in helping growth, through improved investment and spending confidence, is falling inflation. As the oil price is currently showing, that's not guaranteed.
But coming out of other recessions, the upswing has tended to lead to better statistics than those figures. Growth at 2.6% still looks comparatively sluggish.
And the Strathclyde economists remind us that such growth means it will take more than six years for the Scottish economy to return to the output level it had in early 2008.
It only gets back there in the third quarter of 2014 - around the time of the referendum vote. That's a longer recovery period than the UK economy faced in the 1930s Depression. Getting back on track looks increasingly like a lost decade.
Tanking or booming?
Will people vote on fractions of a percentage point on the growth rate? It doesn't seem all that likely. But it translates into confidence, and even more important, into jobs.
And the Fraser of Allander analysis points to times remaining tough in the labour market. A rise from 8.6% to 9.8% unemployment in Scotland by the end of this year is more reason for short-term gloom. But while the economy starts to grow again, and jobs are being created again, the loss of public sector jobs is the main reason why unemployment looks likely to remain stubbornly high.
So while the forecast is for a 34,000 rise in the number seeking jobs to 265,000 at the end of this year, it is set to fall to 234,000 by the end of 2014. At 8.8%, that's higher than the number seeking work now.
Of course, a greatly improved economic performance doesn't necessarily steer the votes one way or the other. If the economy's tanking, or if it's booming, it can be deployed as a reason for supporting either side of the independence debate.
Slow growth equals either lost opportunity for Scotland while part of the UK, or a sign that it's too risky to vote when people are already facing hard times.
High growth either shows Scotland can do well by keeping its place in the UK, or it builds confidence that Scotland can and should run its own affairs.
But unemployment? That has a habit of rebounding on those in government. Confusingly, that includes both sides of the debate.