Decline in Scottish local bus passenger journeys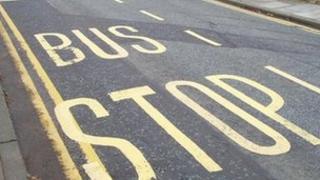 The number of passenger journeys has fallen for all local Scottish bus operators except those in the south east, according to official statistics.
A report by Transport Scotland said the country recorded a 6% year-on-year drop in the number of bus journeys in 2010-11.
Highlands, Islands and Shetland saw the biggest percentage fall of 27%, to reach 11 million journeys.
However, the south east of Scotland recorded a 9% increase.
The report also said the country experienced a 1% fall in passenger revenue in 2010-11.
In the UK as a whole, revenue rose by 1%.
Transport Scotland's reportwas compiled from bus operator information, the Scottish Household Survey (SHS) and concessionary bus fare data.
The study included survey findings outlining reasons given by commuters for not using the bus to travel to work.
The most popular reasons were that trips took too long and there was a lack of direct routes.
On general bus use, one fifth of respondents stated there was "no need" for a trip.
The majority of bus journeys in 2010 were for commuting (28%) and shopping (28%).
Bad winters
A Transport Scotland spokesman said: "We have established an impressive record in funding bus travel, providing some £0.25 billion annually to support a range of schemes including Bus Service Operators Grant, Concessionary Travel, Scottish Green Bus Fund and creating a Bus Investment Fund.
"In addition, we have committed additional funds for M77 hard shoulder running and Bus Rapid Transit Schemes such as Fastlink in Glasgow. This support has been maintained in the face of unprecedented Westminster budget cuts.‬
‪"A number of factors are likely to have impacted on bus patronage in recent years, not least the two unprecedentedly bad winters, challenging economic conditions, and effective use of smartcard technology to combat fraudulent use of concessionary travel entitlements."‬
Total government support for local bus services in Scotland - including concessionary fares and the bus service operators' grant - was £295m in 2010-11 - 8% less than 2009-10.
This was in line with the decline in UK spending as a whole.