Report slashes Scottish growth forecast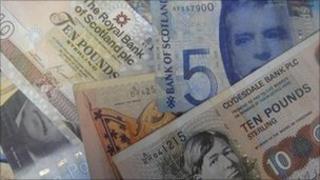 A leading economic forecaster has cut its growth forecast for the Scottish economy this year.
The Fraser of Allander Institute at Strathclyde University revised down its forecast from 0.9% to 0.4%.
It said a return to pre-recession output was unlikely before the third quarter of 2014 - six years after the start of the downturn.
However, the institute suggested there were "some tentative signs of recovery" in the Scottish economy.
This was despite evidence that the economy continued to weaken towards the end of 2011.
It indicated that falling inflation may help growth to pick up in the second half of this year.
The institute argued problems in eurozone remained the "elephant in the room" on future growth prospects, but added the problem had eased for the time being.
It forecasted growth next year at 1.7%.
'Limited impact'
The institute said, although the toughest year of budget reduction had passed for the public sector, it would still be increasingly harder to deliver incremental cuts outlined in the Scottish budget over the next two years "as the financial screws continue to turn ever tighter".
The report added: "Even the recent decision to shift spending revenue to capital - a move that was widely welcomed - will have a limited impact on the economy."
On jobs, the report said the labour market in Scotland was "now clearly weaker" than the UK, with employment falling and unemployment rising to 8.6% - above the UK's 8.4% rate.
It forecasted unemployment to reach 265,000 - or 9.8% - at the end of this year, 34,000 higher than the end of 2011.
Brian Ashcroft, from the University of Strathclyde, said: "Growth in the Scottish economy continues to slow down, employment is falling and unemployment is rising at a faster rate than in the UK.
"Yet, with falling inflation there are some signs of a recovery emerging in the second half of this year and the hope that the problems of the eurozone, if not solved, are less likely to plunge the world economy into recession than when we last reported."